HÆLOS /data tymczasowa/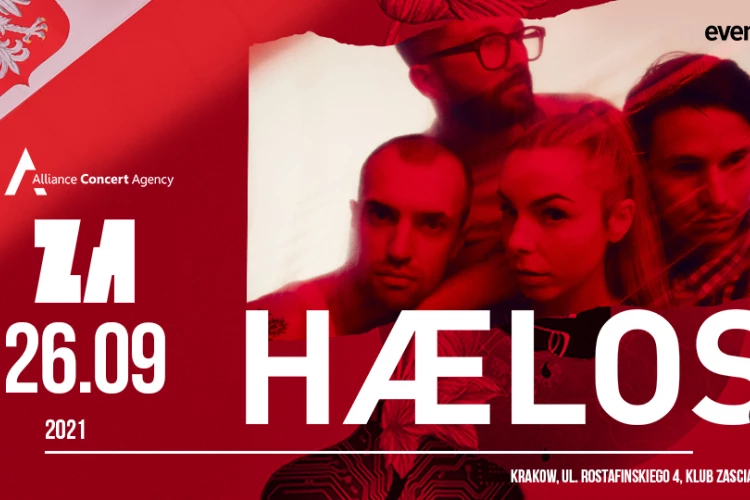 OPIS WYDARZENIA
---
Szanowni Państwo,
Otrzymaliśmy informacje do zespołu dotyczące koncertu. Niestety decyzją managementu - cała trasa HAELOS zostaje przeniesiona na 2022 rok. Data, na którą zostało przeniesione wydarzenie, jest datą tymczasową. Zespół wraz z managementem pracują nad przeniesieniem całej trasy. Pracujemy z zespołem nad jak najszybszym ustaleniem nowej daty, oraz podania jej do wiadomości najszybciej jak to możliwe.
Niestety obostrzenia COVIDowe utrudniają organizacje tras europejskich. Przepraszamy i prosimy o wyrozumiałość, a także zapraszamy na nasze pozostałe koncerty, których pełną listę znajdziecie tu: https://www.klubzascianek.pl/
---
We have received the latest news from the band regarding our concert. The management has decided to postpone the whole tour to 2022. The date to which this event is set, is just temporary. The band and the management are working very hard to set the new dates. As soon as we will know the exact date of our show, we will announce it.
COVID restrictions make it hard to travel in Europe. We are very sorry and ask kindly for your understanding. Meanwhile we invite you to our other shows, check them out here: https://www.klubzascianek.pl/
Alliance Concert Agency and Paradigm Talent Agency presents: The British raising stars HÆLOS will hit Krakow stage for the first time ever with a huge headline show on 10th of April 2021 in Zaścianek club. World media sources call the music of HÆLOS "the dark euphoria". Melodic trip-hop youngsters from London come together across the perfect modern sound and profoundly elaborated vocal parts being greatly connected with live rhythm-section flavored with tube electronics.
The melancholic and unhurried melodies of HÆLOS take top places in the Western charts since 2014. The band gained its first popularity with the song "Dust". The video for that single rapidly gained more than a million views and still draws deep interest. In 2016 the video of the HÆLOS live performance in KEXP studio was viewed by almost three million fans on Youtube. They also played a bright performance at the famous Montreux Jazz Festival. In the Fall of the same year the musicians released their long anticipated debut album.
On 9th of April the band will present polish fans a set of most popular songs which have become the real hits of nowadays and will probably reveal some new tunes that will definitely get the first places at tomorrow's music charts.
DODATKOWE INFORMACJE
---